Women: From Voiceless to #Me Too…....a grateful goodbye to 'Our Bodies Ourselves'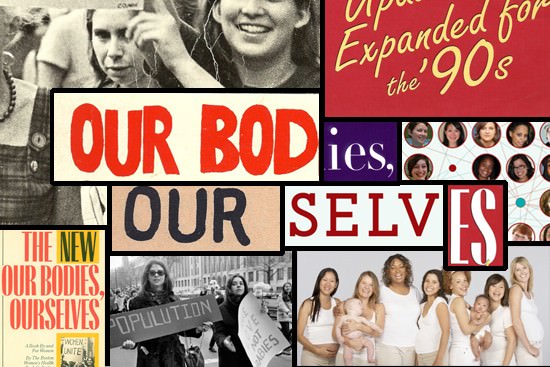 Maybe 53 IS old. I don't feel like I am but lately I've begun to pay attention to what my friends and I talk about and it's starting to sound a lot like our parents. Yikes! One of the times I notice this most is when an icon from my youth decides to call it quits. That happened recently when the powerful, history-changing women behind 'Our Bodies Ourselves' announced that they're pulling the plug on any further publications. This little-told story of 12 women who signed up for a weekend workshop in 1969---and the legacy they left behind 40+ years later--- is truly inspirational. Evenmore, it's a story that demonstrates that women, united together, are powerful through their caring, nurturing and compassion for others.
How 12 Women Unintentionally Changed History
Our Bodies Ourselves is still considered controversial by some folks, even some 50 years after it was first published. It was a book written FOR woman -- BY women, and discussed 'taboo topics' such as masturbation, birth control, female sexual anatomy and rape. First published in 1970 as a 193 page booklet titled "Women and their Bodies', it spoke frankly about the things our mothers never told us, or more likely, never knew about themselves. It was written at a time when abortion was illegal and birth control either unavailable or greatly stigmatized. Back then, if a married woman went to her physician and was diagnosed with gonorrhea, her doctor told her husband--not her. Our Bodies Ourselves was written to empower women and change the way society viewed our issues. As you might of guessed, it was met with enormous resistance. Many libraries and high schools refused to carry it and evangelical pastor Jerry Falwell even described it as "obscene trash".
Before Social Media..... a revolution by 'word of mouth'
The information it contained was so needed that its distribution grew despite the controversy it drew. Largely, by word of mouth. Women across the country passed it to their friends, their sisters and their neighbors. Teenagers —both male and female—-hid it under their beds like a dirty magazine. And college-aged women learned, for the first time, that the 'thing' they felt uncomfortable and ashamed about the other night, was actually rape.
It taught us about our bodies and our reproductive health. It taught us that it's okay to talk with our doctors about these things and how to do so. It likely saved countless lives by describing symptoms of things like entoptic pregnancies and the importance of examining our breasts. As part of the women's movement, it challenged the medical establishment to change and improve the care that women receive. Like women themselves, the impact it's had is hugely under-rated and often overlooked---- yet truly revolutionary.
Over the last 45 years, this award-winning book has been updated and republished every four to six years (latest version in 2011). It's been translated into 31 languages with Farsi being the most recent. In 2001, Our Bodies Ourselves Global Initiative was formalized, adapting and providing support for women around the world based on their cultures and communities.
The end of an era.....Where do we go from here?
But like many hard fought victories, the shifts and impact that Our Bodies Ourselves has had on society, may have ultimately led to its own demise.With the growth of the internet and information being more available, the need for hard print books is becoming a thing of the past for pioneering publications like this. Though efforts have been made over the last several years to keep the organization going through digital media, this too has fallen short.
So today I'm left feeling sad. Sad and yet, so incredibly grateful. Grateful that 49 years ago this month, (May 1969) 12 courageous women, ranging in age from 23 to 39, met at a workshop on "Women and their Bodies" during a women's liberation conference in Boston. While there, they shared openly about their personal stories, experiences and information they had about issues of women's sexual health.That historical 'Me-Too' conversation eventually revolutionized the health care of millions of women around the world.And for that, I am grateful.I am inspired.And I am happy to pick up the torch and continue supporting women in my own way. I hope you are inspired to do the same. (Learn more about the impact of Our Bodies Ourselves.)
Makena Phillips is an independent business owner, holistic healer and spiritual coach since 1997. As owner of Shepard Moon Concoctions, she actively employs, supports and empowers people on their revolutionary path to impact the world in their own unique way.
Related Posts
Comments
No comments made yet. Be the first to submit a comment